US News
Defense Secretary Lloyd Austin visits Ukraine as Pentagon urges Congress to pass additional aid to stop Russia
Secretary of Defense Lloyd Austin visited Ukraine on Monday, when he will meet with Ukrainian officials to relay a message of solidarity with the Ukrainian people and that America stands firmly behind the Eastern European country in its war with Russia.
After an 11-hour train ride from Poland to Ukraine, Austin exited onto the platform, where he shook hands with U.S. Ambassador to Ukraine Bridget Brink. U.S. Defense Attaché Brig. Gen. Kipling Kahler was also present to greet him.
"I just arrived in Kyiv to meet with Ukrainian leaders," Austin wrote on the social media site X. "I'm here today to deliver an important message – the United States will continue to stand with Ukraine in their fight for freedom against Russia's aggression, both now and into the future."
The trip is Secretary Austin's second to Ukraine since Russia invaded in February 2022. His last visit was in April 2022.
UKRAINE DEALS DEVASTATING BLOW TO RUSSIA WITH DESTRUCTION OF KEY BASE: A 'CRUCIAL TIME' IN CONFLICT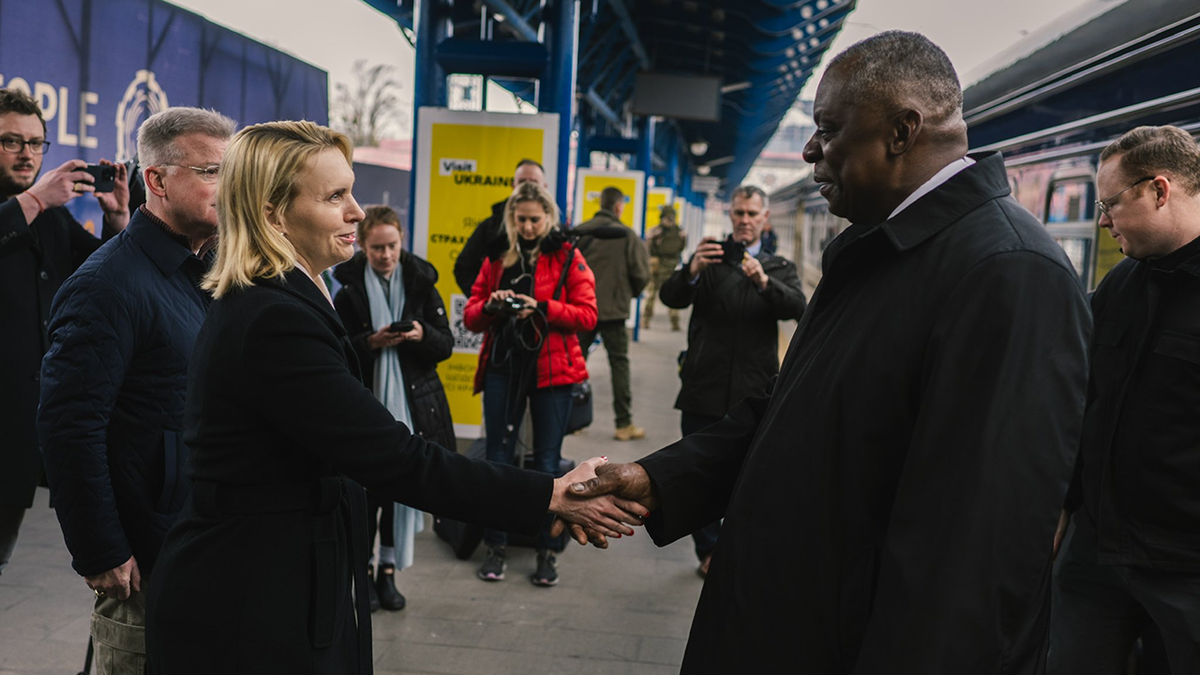 The Department of Defense released a statement confirming Austin would meet with Ukrainian leaders to bolster the U.S.-Ukrainian relationship.
"During his visit, Secretary Austin will engage in high-level talks with Ukrainian leadership. The discussions will focus on further bolstering the strategic partnership between the United States and Ukraine, to include ensuring Ukraine's armed forces have the battlefield capabilities they need for both the winter and to defend their country against future Russian threats," the Defense Department said.
BIDEN ADMIN URGES MAJOR FUNDING INCREASES FOR AID TO UKRAINE, ISRAEL AND GAZA CIVILIANS
It added, "Later this week, Secretary Austin will also host the 17th meeting of the Ukraine Defense Contact Group virtually from the Pentagon, continuing the vital work of international coordination and support for Ukraine with nearly 50 nations expected to participate."
The head of European Command/NATO's Supreme Allied Commander, U.S. General Christopher Cavoli is also on the trip.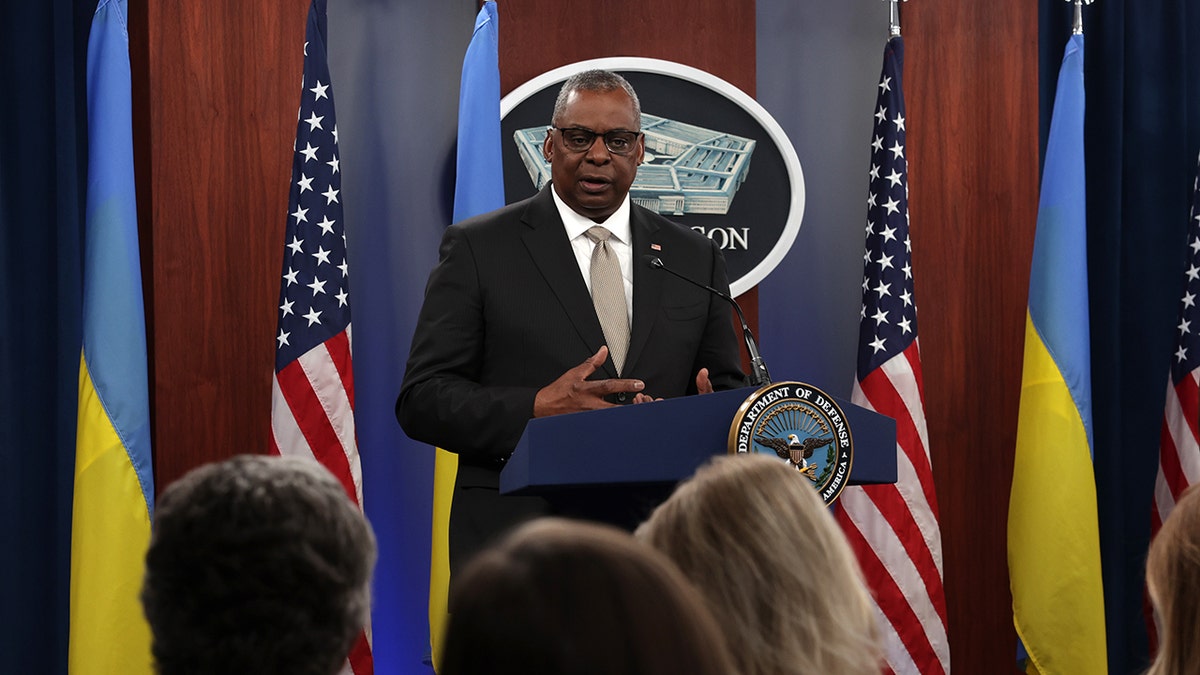 Austin's trip to Ukraine comes as the Pentagon continues to urge Congress — the Republican-led House of Representatives and the Democratic-controlled Senate — to pass additional funding to support Ukraine's military effort.
"I am pleased that the passage of another continuing resolution has put off the threat of a lapse of funding," Austin said Friday, Nov. 17. "Its enactment will ensure that our brave troops and dedicated civilian workforce will be paid through the holidays. Yet I continue to urge Congress to pass full-year appropriations, which remains the best thing that Congress can do for our national defense. As we have long made clear, operating under short-term continuing resolutions hamstrings the Department's people and programs and undermines both our national security and competitiveness."
BIDEN ANNOUNCES $325M AID PACKAGE TO UKRAINE AFTER MEETING WITH ZELENSKYY
He added, "I also urge Congress to take up and pass supplemental funding to strengthen our national security as soon as possible. Our supplemental request directly supports our allies and partners, including Israel and Ukraine, during a critical period and makes key investments in our defense industrial base across the country. These investments will mean greater prosperity at home and greater security abroad."
"I continue to stand ready to work with Congress to keep America secure and strong."
To date, Ukraine has received more than $44 billion from the U.S. and more than $35 billion from other allies in weapons, ranging from millions of bullets to air defense systems, advanced European and U.S. battle tanks and pledges for F-16 fighter jets.
However, Ukraine still needs more.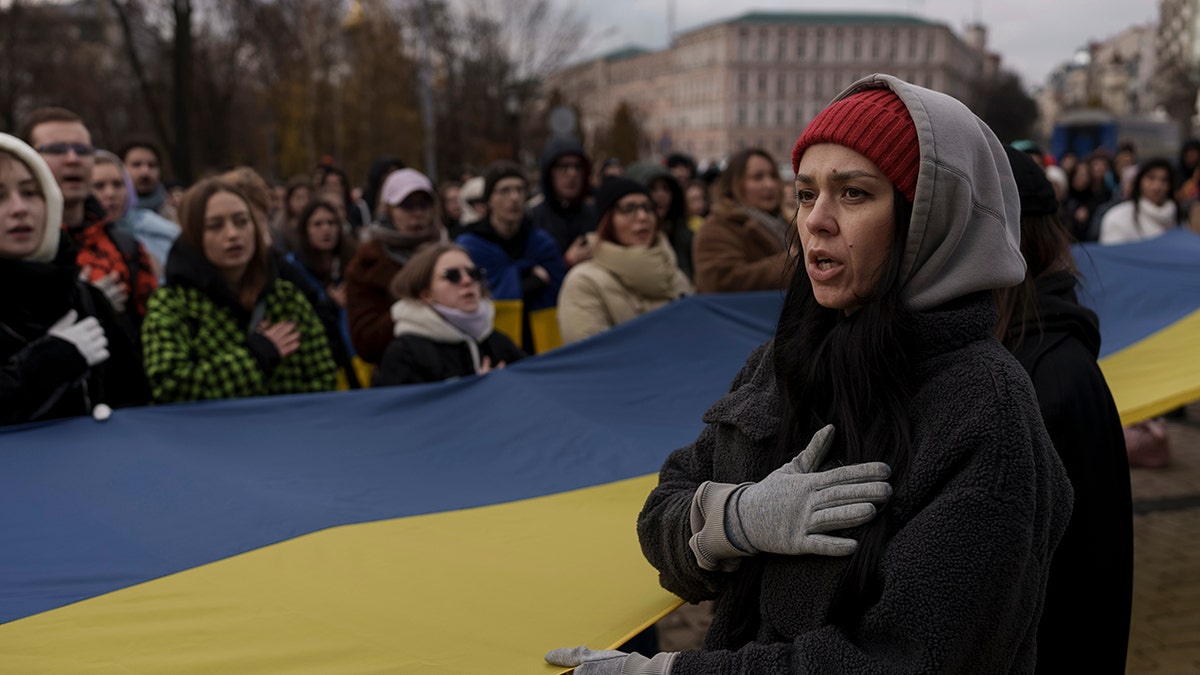 On Thursday, Deputy Pentagon press secretary Sabrina Singh held a press briefing where she said the Pentagon has been rolling out smaller weapons packages for Ukraine due to the uncertainty on Capitol Hill.
POLAND ANNOUNCES STOP TO SUPPLYING ARMS TO UKRAINE, SAYS MODERNIZING ITS OWN WEAPONS
When asked for a preview of the next Ukraine Defense Contact Group meeting, an alliance of 54 countries that meet monthly for updates on the current conflict with Russia, Singh said an announcement was expected within the next few days.
"In terms of aid packages, you've seen us roll out pretty consistently, aid packages for Ukraine. We have had to pass down our support and our security assistance for Ukraine because we don't have additional funding, because the supplemental hasn't been passed. So we just rolled out our last presidential drawdown authority, and I believe that was last week," the deputy press secretary continued.
Singh added, "Look what we're when we're ready to roll out the next one. We certainly will. We know that Ukraine continues to face and continues to endeavor and its counteroffensive, and they need continued support on a regular basis. So we know that we have to do that. We know that we have to continue to meet their needs. And that's something that certainly will be discussed at the next Ukraine Defense Contact Group. But in terms of a package preview, I just don't have more for you to announce today."  
MOST GLOBAL LEADER AT GENERAL ASSEMBLY FIND COMMON TREND IN CONDEMNING RUSSIAN INVASION OF UKRAINE
A reporter at the press briefing also asked how long the Pentagon can support Ukraine until Congress needs to appropriate new funding.
"You have seen smaller packages, because we need to parse these out," Singh said Thursday. "Because we don't know when Congress is going to pass our supplemental package. I mean, frankly, that is why we requested an emergency supplemental package to provide funding for our security assistance to Ukraine and also to backfill our own stocks."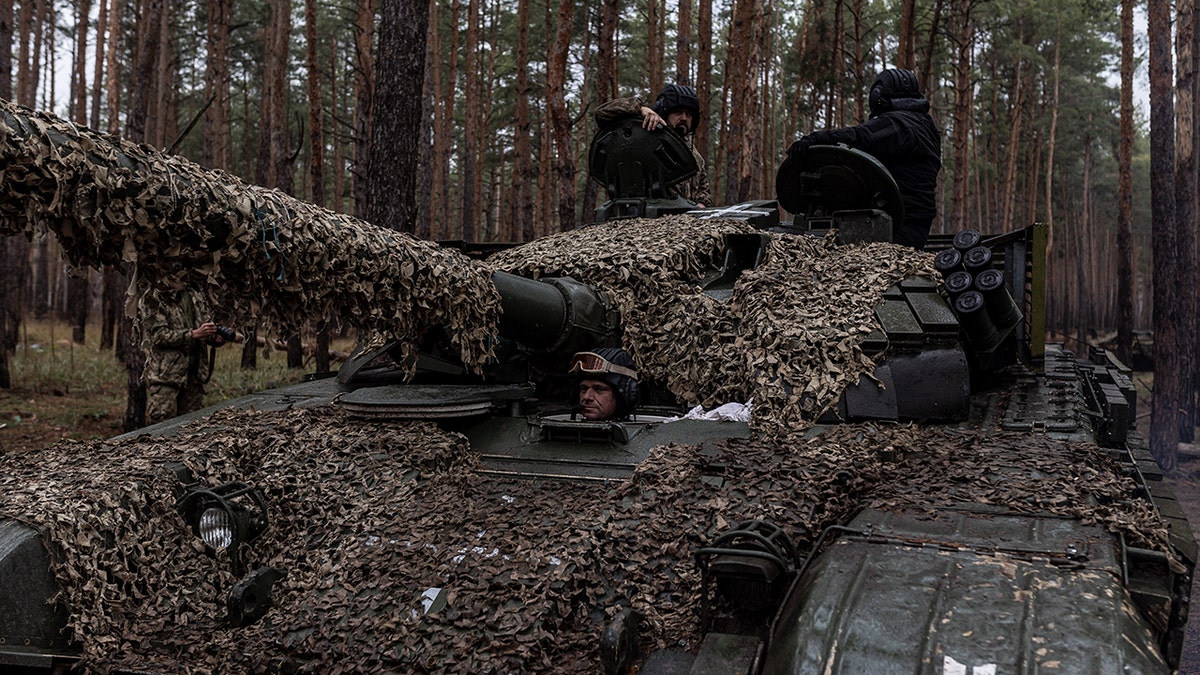 The Pentagon can send about $5 billion more in weapons and equipment from its own stocks; however, it only has about $1 billion in funding to replace those stocks.
"The supplemental, again, is in Congress. We continue to urge Congress to pass a supplemental package together because it's an emergency request. It's not part of the budget process. And so we have a large amount that we want Congress to authorize for Ukraine and for Israel. And for our investments in the Indo-Pacific and, of course, for our own investments in our defense industrial base. So that's something that we're going to continue to urge Congress to pass. But you're absolutely right. You have seen smaller packages because we need to pass these out because we don't know when Congress is going to pass our supplemental package. And so we're continuing to talk with allies and partners. We're not the only country here contributing to Ukraine's urgent battlefield needs. As you know, the Ukraine contact Group is over 50 nations. So it's not that it's just the U.S. supporting Ukraine, but the president has been very clear that we are going to stand with Ukraine for as long as it takes."  
Singh was also asked to give a timeline on how long American taxpayers can expect to keep contributing money to the Ukraine-Russia war, but she was unable to do so.
CLICK HERE TO GET THE FOX NEWS APP
"I'm not going to forecast how long that's going to last. That certainly wouldn't do the Ukrainians any good. That would really benefit the Russians. And so I'm just not going to be able to give you a timeline on how long we're going to be able to have these packages continue to go forward."
Monday, Nov. 20, will be the 635th day since Russia first invaded Ukraine in Feb. 2022.
Fox News' Liz Friden, Jessica Sonkin and The Associated Press contributed to this report.
Denial of responsibility! Today Breeze.in is an automatic aggregator around the global media. All the content are available free on Internet. We have just arranged it in one platform for educational purpose only. In each content, the hyperlink to the primary source is specified. All trademarks belong to their rightful owners, all materials to their authors. If you are the owner of the content and do not want us to publish your materials on our website, please contact us by email – admin@todaybreeze.com. The content will be deleted within 24 hours.